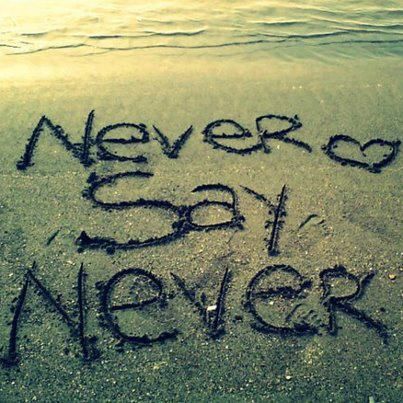 This morning, while I was driving to work, I heard my car radio playing Justin Bieber's song "Never Say Never".  Although it was not my first time to hear this song, it made so much sense to me today as I related it to life.
I recently received an email from an old university friend.  When we were in school, he used to frequently complain about boredom and said that he would never go back to school after he received his bachelor degree.  He used to joke and say that "a grade of 60 was good enough.  A grade of 59 is not enough, and a grade of 61 is too much for a course".  I was so surprised to learn he now holds a post-doctorate degree at a university in the United States. To tell him how surprised and proud of him I am, I wrote him back "Did the sun come up from the west?" which is a Chinese saying meaning that it was incredible.  Although my friend said he would never go back to school and even I did not think he would continue furthering his studies, he now has his post-doctorate degree.  Never say never.
When the chance of doing something is very low, we like to say "never".  Do you remember how many times you said "never" in the past but you ended up doing it successfully?  I can remember, after I passed a mandatory standardized English test in university, I told myself I would never need to deal with English anymore; but now I am living in Canada and I speak English every day.  Although I had felt I would not have to deal with English again, I found myself taking a course in English as a Second Language.   Before I had children, I also thought I would never drive a car because I was always afraid of high speed on highways.  But then I became a mom and found that I had to learn to drive in order to give my kids rides to appointments and various activities.   Again, never say never.
There is a saying "When there is a will, there is a way." I also believe that when there is no will, there still is a way.  Better than giving up, we can continue to work on our strengths and seek opportunities to continue to learn and grow.  Never say never; otherwise, we never seek for a better opportunity and hence trap ourselves.